Designed to combine two fabrics in one system, each shade is controlled independently for precise control of light and privacy.
Contemporary 5″ fascia design available in a variety of colours with matching end caps. Fascia reduces light seepage at the top of the window.
The motorized Gemini Dual Shade System can be controlled with a remote, an app, or voice commands.
Each shade can be independently set as standard or reverse roll orientation.
Side channels can optionally be added to the back shade only.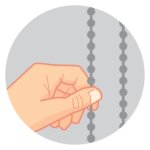 Simple, dependable, and colour coordinated.  Roller Shades can be operated using a manual clutch and chain system.
Chain finishes include:
Stainless steel
Plastic in clear, white, linen, grey, brown, and black
Your choice of chain loop or custom length joined chain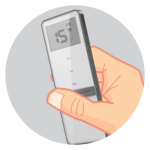 Roller shades are compatible with a wide range of versatile automation solutions from elegant and intuitive home automation to robust building integration systems.
Gemini Dual Shades motorized options are powered by Sun Glow 12V Rechargeable, Somfy R28, Somfy R30 Junior, Somfy Sonesse 30, and Somfy Sonesse 30 Wirefree motors.
Both shades are shown as regular rolls. Both rolls are closest to the glazing.
A= 3/4″ ± 1/8″
B= 2″ ± 1/8″
Both shades are shown as reverse rolls. Both rolls are furthest from the glazing.
A= 2 3/8″ ± 1/8″
B= 2″ ± 1/8″
Front shade is shown as reverse roll, and the back shade is shown as regular roll. Spacing between the rolls is the largest in this configuration.
A= 3/4″ ± 1/8″
B= 3 5/8″ ± 1/8″
Square cassette with defined edges.
Conceals roller and components for a very clean and contemporary appearance.
Universal bracket suits all mounting conditions.
Commercial grade aluminum construction.
The Accubar™ aluminum hem bar has a contemporary, clean look. The hem bar and end caps are available in five coordinating finishes.
The Accubar with the inside face wrapped with the shade fabric for total coordination.  The hem bar and end caps are available in five coordinating finishes.
The Sun Glow Slim Bar is ideal when a finished aluminum hem look is desired in combination with either a smaller profile or side channels.
The Accurail aluminum hem bar is offered in five finishes, has an oval profile, and the oval end caps are available in black, grey, or white.
Plain hem is a 1.75″ welded or sewn pocket with an aluminum slat insert (shown). A wood slat is used for vinyl fabrics. The sides can be left unsewn or stitched per your preference.
White
Linen
Anodized/ Grey
Light Bronze
Dark Bronze/Brown
Black
Gemini Fascia
(Aluminum)
⬤
⬤
⬤
Gemini Brackets
(Metal)
⬤
⬤
⬤
Gemini End Caps
(Plastic)
⬤
⬤
⬤
Accubar
(Aluminum)
⬤
⬤
⬤
⬤
⬤
⬤
Accubar End Caps
(Plastic)
⬤
⬤
⬤
⬤
⬤
Accurail
(Aluminum)
⬤
⬤
⬤
⬤
⬤
Accurail End Caps
(Plastic)
⬤
⬤
⬤
⬤
Slim Bar
(Aluminum)
⬤
⬤
⬤
⬤
⬤
Slim Bar End Caps
(Plastic)
⬤
⬤
⬤
⬤
⬤
Blackout Channel
(Aluminum)
⬤
⬤
⬤
⬤