The classic simplicity and functionality of roller shades have made them a popular choice for many applications. With a wide range of fabric, control systems, valance & hem options, and custom accents, roller shades are an ideal solution to virtually any solar control challenge.
The system never requires adjustment.
Raise or lower the shade by simply pulling the chain.
Chain is available in white, grey, black, linen, brown, clear, and stainless steel.
Compatible with Lift Assist mechanisms (LAM).
Chain hold-downs included as a standard with each shade.
Systems can be wall, ceiling, or laterally mounted.
Decora 8, Decora 12, Decora 16

Three headrail sizes accommodate greater range of drop length possibilities and use of thicker fabrics.

Fully assembled design makes for quick and easy installation.

Intermediate bracket allows two shades in one headrail.
Five cassette colours available with coordinating end caps, see chart below for colours.
Conceals roller and components for a very clean and contemporary appearance.
Universal bracket suits all mounting conditions.
Commercial grade aluminum construction.
Available in five colours with coordinating bracket covers. Coordinating bracket covers available on request for outside mount situations.
See colour chart below for colour options.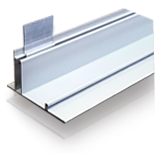 Commercial grade, aluminum construction.
Bottom enclosure conceals roller and components for a seamless, integrated look.
Can be mounted inside 4″-5″ pockets or larger.
Cover available to conceal bottom of the drywall edge.
Bottom enclosure is removable for easy access for shade maintenance.
The Accubar™ aluminum hem bar has a contemporary, clean look. The hem bar and end caps are available in five coordinating finishes.
The Accubar with the inside face wrapped with the shade fabric for total coordination.  The hem bar and end caps are available in five coordinating finishes.
The Sun Glow Slim Bar is ideal when a finished aluminum hem look is desired in combination with either a smaller profile or side channels.
The Accurail aluminum hem bar is offered in five finishes, has an oval profile, and the oval end caps are available in black, grey, or white.
Plain hem is a 1.75″ welded or sewn pocket with an aluminum slat insert (shown). A wood slat is used for vinyl fabrics. The sides can be left unsewn or stitched per your preference.
White
Linen
Anodized/
Grey
Light Bronze
Dark Bronze/ Brown
Black
CBX Cassettes
(Aluminum)
⬤
CBX Brackets
(Metal)
⬤
⬤
CBX End Caps
(Plastic)
⬤
⬤
⬤
Hanger and Closures
(Aluminum)
⬤
⬤
Fascia SF3 & SF4
(Aluminum)
⬤
⬤
⬤
⬤
⬤
⬤
SF3 & SF4 Brackets
(Metal)
⬤
⬤
⬤
⬤
⬤
SF3 & SF4 Bracket Covers
(Metal)
⬤
⬤
⬤
⬤
⬤
Decora Cassettes
(Aluminum)
⬤
⬤
⬤
⬤
⬤
Decora Brackets
(Metal)
⬤
Decora End Caps
(Plastic)
⬤
⬤
⬤
⬤
⬤
Accubar
(Aluminum)
⬤
⬤
⬤
⬤
⬤
⬤
Accubar End Caps
(Plastic)
⬤
⬤
⬤
⬤
⬤
Accurail
(Aluminum)
⬤
⬤
⬤
⬤
⬤
Accurail End Caps
(Plastic)
⬤
⬤
⬤
Slim Bar
(Aluminum)
⬤
⬤
⬤
⬤
⬤
Slim Bar End Caps
(Plastic)
⬤
⬤
⬤
⬤
⬤
Blackout Channel
⬤
⬤
⬤
⬤