Sun Glow's Panel Track system offers a contemporary design and is ideal for large windows, patio doors, or room dividers. The panels can be made in varying widths and configured to open from the left, right, or centre splits.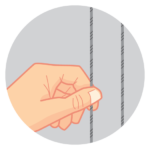 Soft and textured. Panel Track shades can be operated using a manual clutch and cord loop system.
Sizes: 2′, 3′, 4′, 5′, 6′, 7′, or 8′.
Colours: white (all sizes) or vanilla (up to 7′). Other colours available on request.
Use a wand to operate your panel track safely and easily without cords.
Hem Options
The Accubar™ aluminum hem bar has a contemporary, clean look and can be wrapped on one side with the shade fabric for total coordination. The hem bar and end caps are available in five coordinating finishes.
The Accurail aluminum hem bar is offered in five finishes, has an oval profile, and the oval end caps are available in black, grey, or white.
The Sun Glow Slim Bar is ideal when a finished aluminum hem look is desired in combination with either a smaller profile or side channels.
Plain hem is a 1.75″ sewn pocket with an aluminum slat insert (shown). A wood slat is used for vinyl fabrics. The sides can be left unsewn or stitched per your preference.
Finish Options
White
Linen
Anodized
Light Bronze
Dark Bronze/Brown
Black
Panel Track Channel
(Aluminum)
⬤
Accubar
(Aluminum)
⬤
⬤
⬤
⬤
⬤
⬤
Accubar End Caps
(Plastic)
⬤
⬤
⬤
⬤
⬤
Accurail
(Aluminum)
⬤
⬤
⬤
⬤
⬤
Accurail End Caps
(Plastic)
⬤
⬤
⬤
Slim Bar
(Aluminum)
⬤
⬤
⬤
⬤
⬤
Slim Bar End Caps
(Plastic)
⬤
⬤
⬤
⬤
⬤