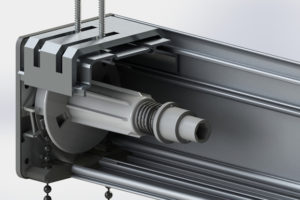 Vision™ is a modular roller shade system developed in-house at Sun Glow. The system is host to an impressive range of in-demand features.
Sun Glow uses the high quality, durable Rollease Clutch system as our standard system that never requires adjustment. The shade is raised or lowered by simply pulling the chain. Stainless steel is our standard chain. Poly chain is also available in white, grey, black, linen, brown, or clear. To complement the chain system and reduce pull force of larger shades, we offer Spring Assist and Ultra Lite, which are selected based on the size of the shade.
Plain hem is a 1.75″ sewn pocket with an aluminum slat insert (shown). A wood slat is used for vinyl fabrics. The sides can be left unsewn or stitched per your preference.
The Sun Glow Slim Bar is ideal when a finished aluminum hem look is desired in combination with either a smaller profile or side channels.
The Accurail aluminum hem bar is offered in five finishes, has an oval profile, and the oval end caps are available in black, grey, or white.
The Accubar™ aluminum hem bar has a contemporary, clean look and can be wrapped on one side with the shade fabric for total coordination. The hem bar and end caps are available in five coordinating finishes.
The Accubar with the inside face wrapped with the shade fabric for total coordination. The hem bar and end caps are available in five coordinating finishes.
Snap-on brackets for quick and easy installation.
Modular design offers a wide variety of valance configurations for optimal performance and cost effectiveness.
Minimal and symmetrical light gap offers greater solar control and a balanced appearance.
Lift assist mechanism (LAM) spring mechanism reduces the pull force required to lift the shade which reduces wear and tear on the components.
Completely assembled unit is balanced and tested during manufacturing to ensure proper performance
before and after installation.
Built in leveling system allows drive and idle end to be leveled after installation to compensate for uneven mounting conditions.
Stripless clutch technology allows shade to also be pulled down by bottom bar.
Vision meets the following Leed point criteria:

MR credit: 4.1/4.2 Recycled content.
MR credit: 5.1/5.2 Regional materials.
EQ credit: 8.1/8.2 Daylight and views.

Light Gap: 11/16″±1/8″ (idle end), 11/16″±1/8″ (drive end). Light gap may increase when using fabrics which tend to telescope or when the width the height ratio is 1:2.5 or greater.
Vision Cassette Dimensions
| | V-84 | V-102 |
| --- | --- | --- |
| A | 3 1/4" | 4 1/8" |
| B | 3 5/16" | 4" |
Number of Vision Brackets By Width
| Shade Width | # of Mounting Brackets |
| --- | --- |
| < 48" | 2 |
| 49" - 72" | 3 |
| 73" - 108" | 4 |
| 109" - 144" | 5 |
| 145" - 180" | 6 |
Vision Mounting - Ceiling
| | A | B | C |
| --- | --- | --- | --- |
| V-84 | 1 1/2" | 3 5/16" | 3 1/4" |
| V-102 | 1 7/8" | 4" | 4 1/8" |
Vision Mounting - Wall
| | A | B | C |
| --- | --- | --- | --- |
| V-84 | 1 1/2" | 3 5/16" | 3 1/4" |
| V-102 | 1 7/8" | 4" | 4 1/8" |
Vision Mounting - Lateral
| | A | B |
| --- | --- | --- |
| V-84 | 1 3/8" | 3 5/8" |
| V-102 | 1 3/8" | 4 5/16" |
A = Measurement to furthest screw
B = Measurement from ceiling to bottom of cassette
C = Measurement from wall to front of cassette