Slim Roman Shades add a luxurious and sophisticated feel to a room. Their soft rolls fold together to create an elegant look even when the shade is fully retracted.
Ideal for shallow mounting depths: The updated headrail profile allows you to install in window frames with shallow mounting depths.
New clutch design allows for smooth operation: Chain operated with stainless steel and poly loop chains.
Easy to assemble: Simple, flexible mounting brackets allow for snap-in installation
Easylock Cord Winder prevents cord from tangling: Cords run smooth and tangle-free with the implementation of our Easylock Cord Winder
Velcro attached fabric front
[table "21" not found /]
Single Roman Shades are operated using a control loop cord and clutch mechanism or automation. Duo Romans are operated with a cord lock mechanism.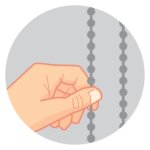 Simple, dependable, and colour coordinated.  Roman Shades can be operated using a manual clutch and chain system.
Chain options include:
Stainless steel
Plastic in clear, white, linen, grey, brown, and black
Chain loop only
Slimmer and taller than the original, Accubar 2.1 still offers outstanding stability and perfect weight for any shade.
The Accubar 2.1 but with the interior face wrapped with the shade fabric for total coordination.
The Accubar aluminum hem bar has a contemporary, clean look.
The Accubar but with the interior face wrapped with the shade fabric for total coordination.
Plain hem is a 1.75″ welded or sewn pocket with an aluminum slat insert (shown). A wood slat is used for vinyl fabrics. The sides can be left unsewn or stitched per your preference.
The Deluxe Bar hem bar has a contemporary rectangular profile with square edges.
The Sun Glow Slim Bar is ideal when a finished aluminum hem look is desired in combination with either a smaller profile or side channels.
White
Linen
Anodized
Light Bronze
Dark Bronze/
Brown
Black
Accubar (Aluminum)
✔
✔
✔
✔
✔
✔
Accubar End Caps
(Plastic)
✔
✔
✔
✔
✔
Accurail (Aluminum)
✔
✔
✔
✔
✔
Accurail End Caps (Plastic)
✔
✔
✔
Slim Bar (Aluminum) and End Caps (Plastic)
✔
✔
✔
✔
✔